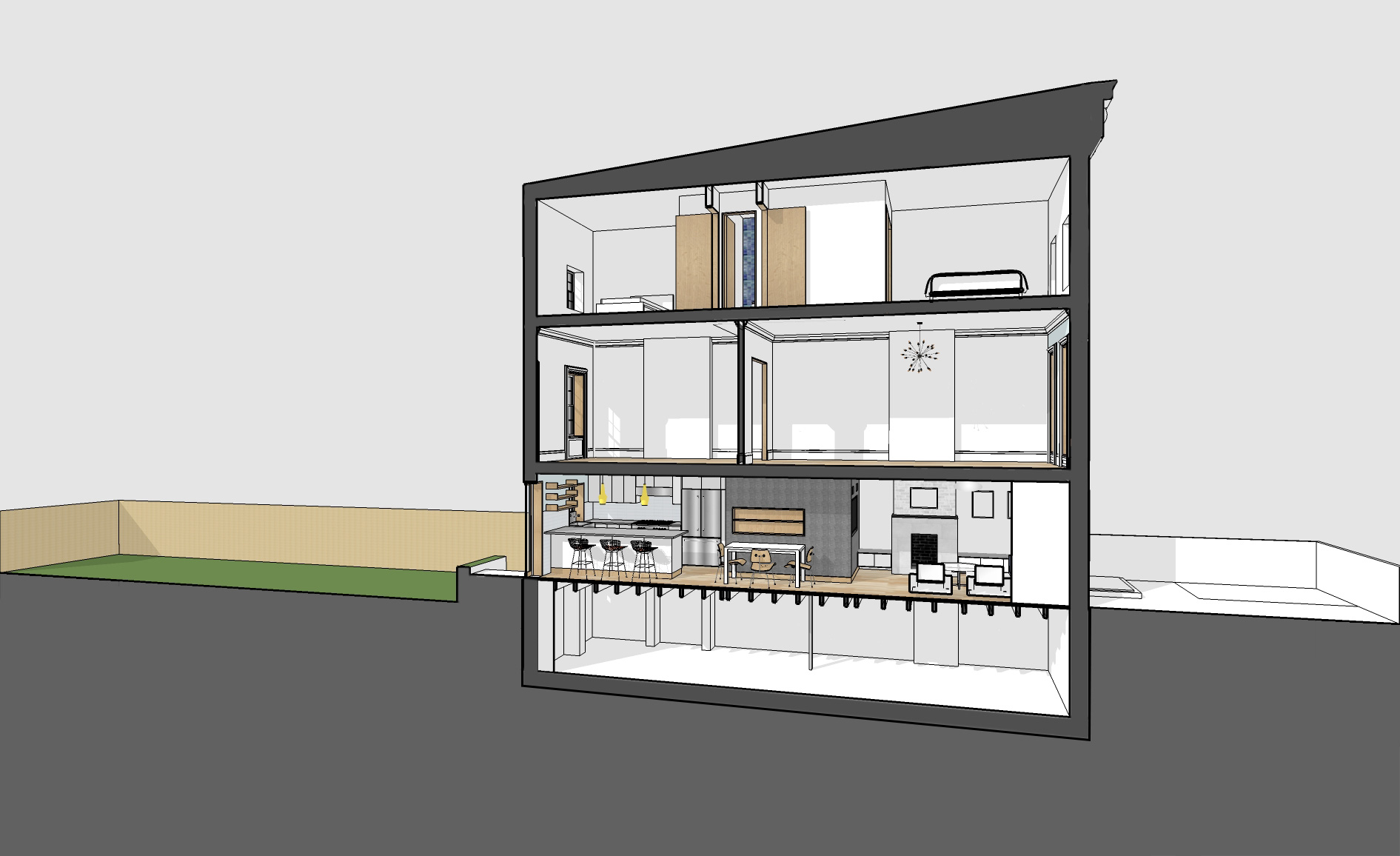 While framing continues on Boerum Hill House II, we'll take this opportunity to illustrate the design concept with some drawings and images from our working 3D model. 
As mentioned last week, one of the primary drivers for the layout of the floors, was the desire to maximize the light penetrating deep into the center of the floor plates.  This is a typical problem in Brooklyn townhouses.  Front and rear exposures are narrow and long parti walls are shared with neighbors to the sides, leading to dark areas in the core of the building.
To begin we listen to our clients describe the way they use their space and their typical days, elaborating on their lifestyles, celebrated moments and desires for their new homes.  We then organize the spatial layout prioritizing spaces accordingly in order to create spaces that deliver on those desires.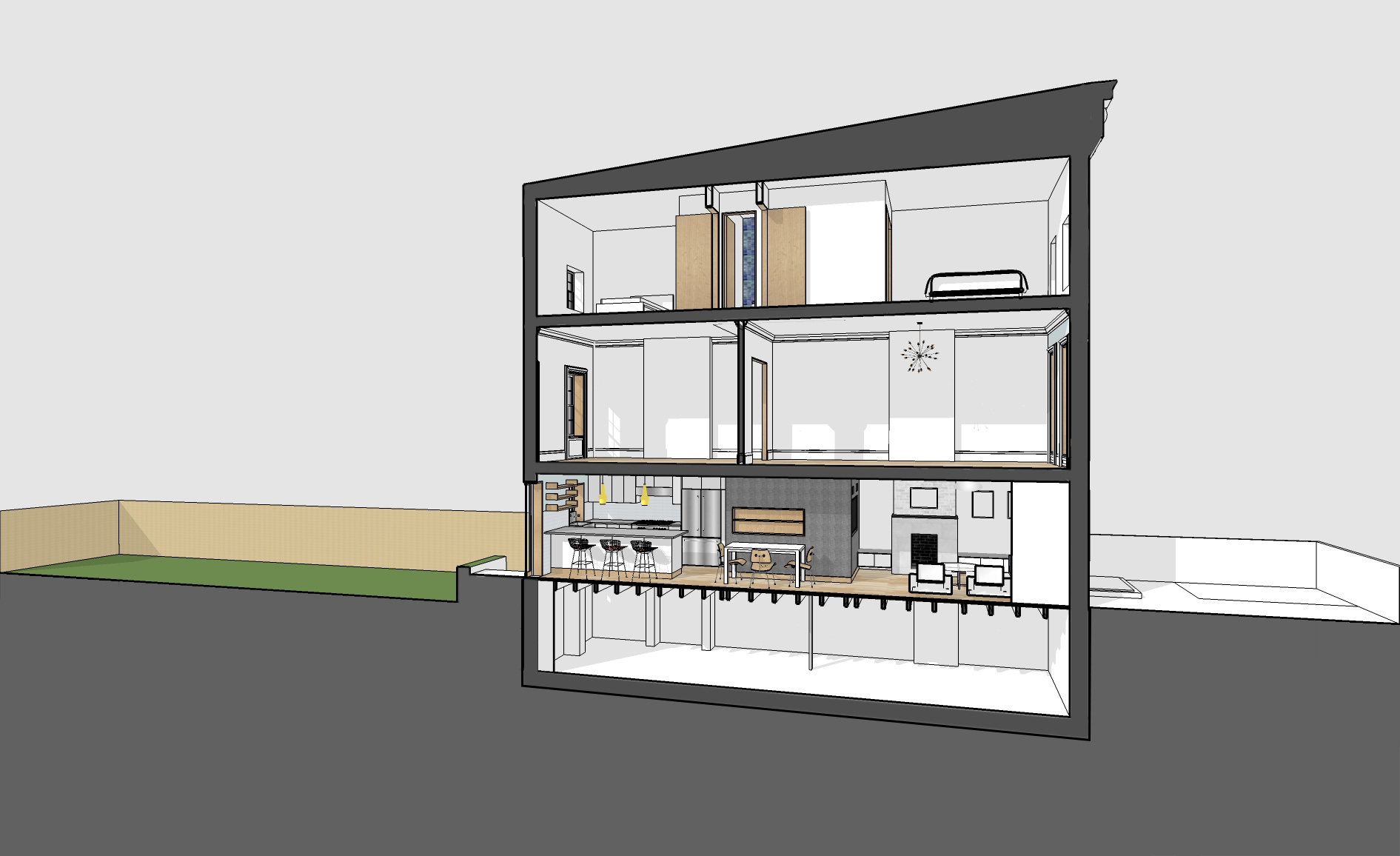 Here in the building section you can see how the service spaces - bathrooms, equipment and storage - have been moved to the building's core, while the more lived-in spaces take advantage of the windows in the front and rear walls.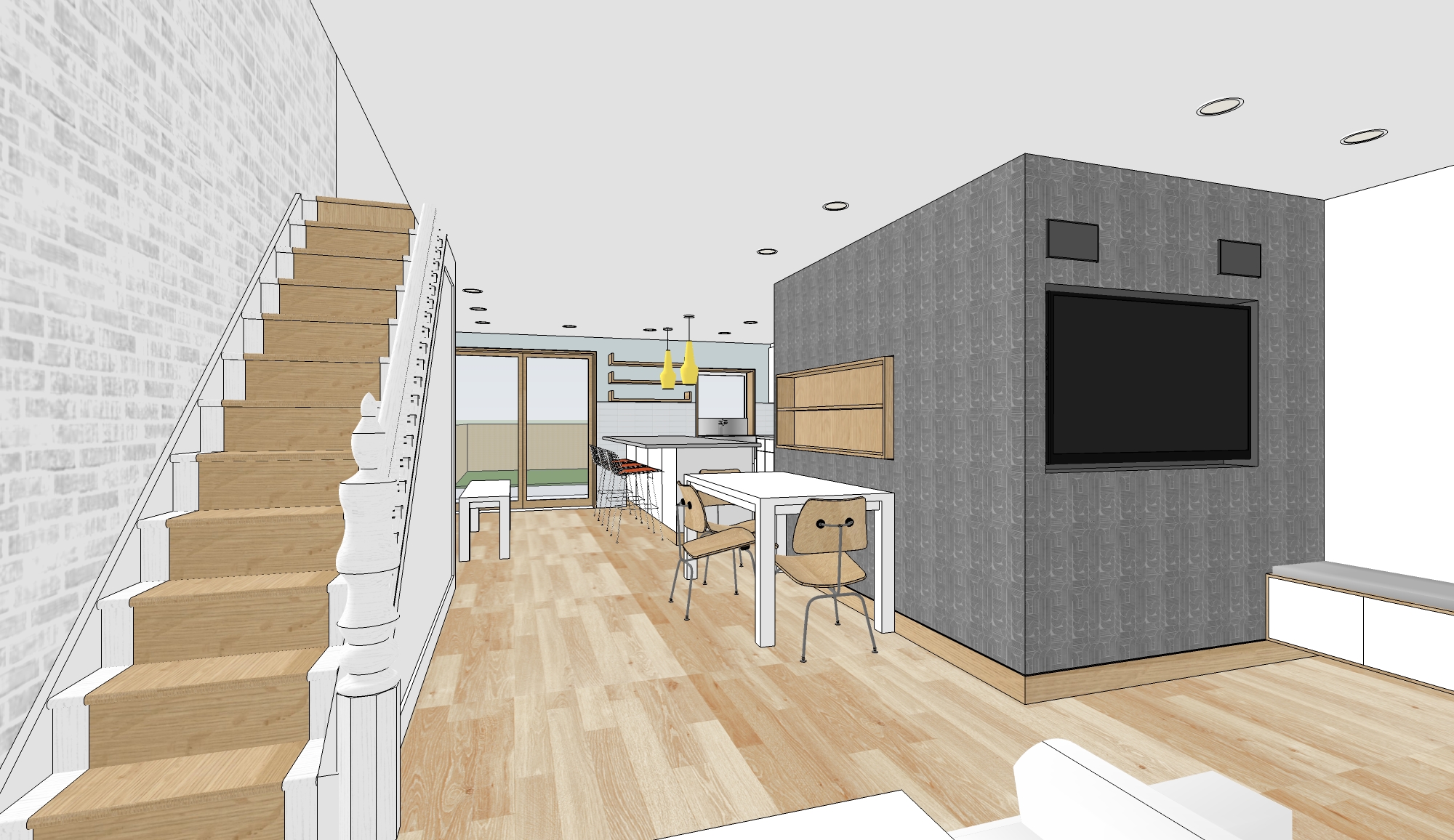 From the first ntry into the space, you can understand this organizational device.  The bathroom volume, clad in wallpaper, separates the Family Room in the front from the kitchen in the back.  A thickened partition, facing the Family Room side, serves to contain the entertainment center. The Family Room is a relaxed space with a long, low, built-in bench to contain audio-video equipment and toys.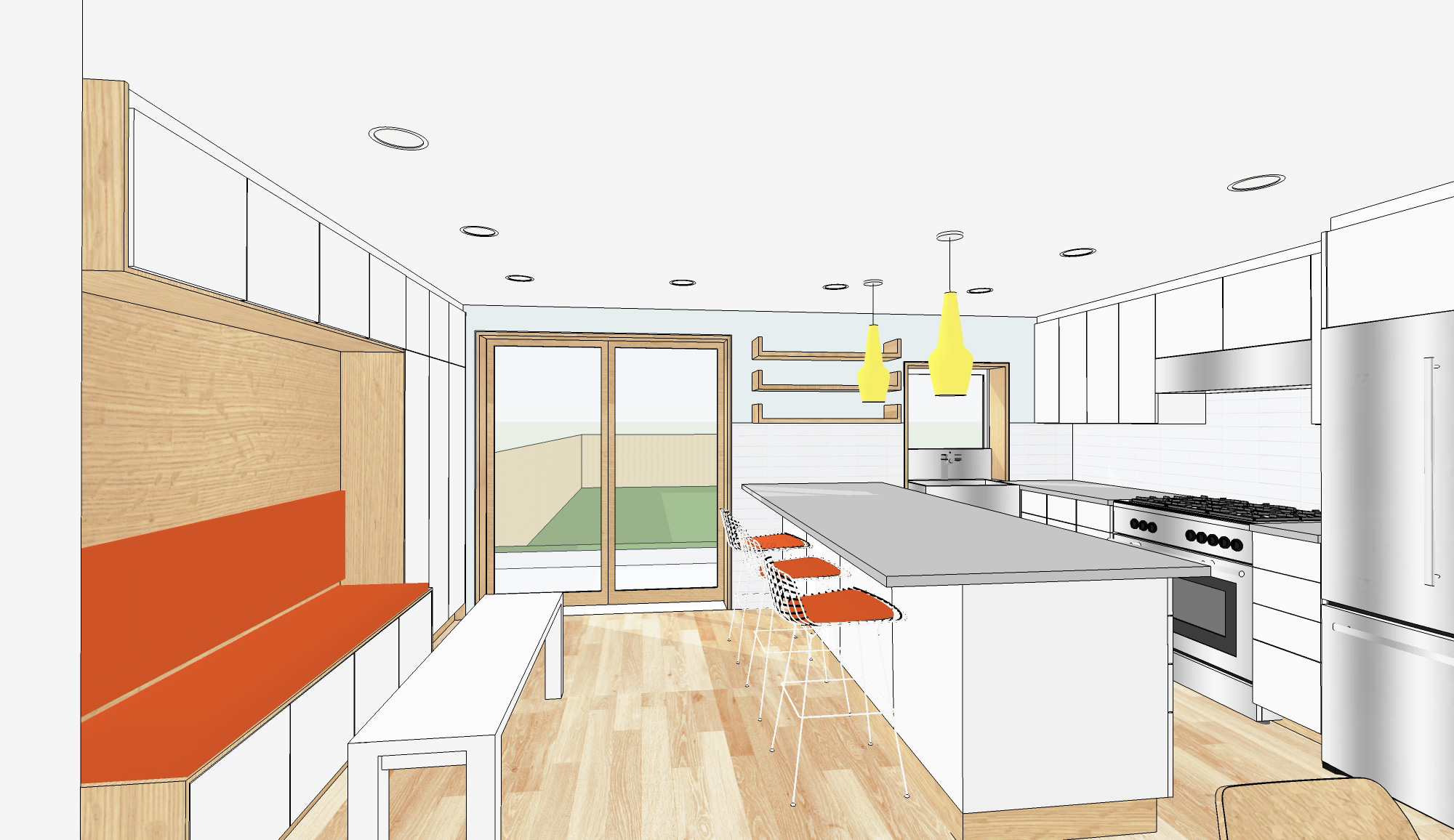 A large open kitchen was a priority for the client so we dedicated the entire back half of the house to the kitchen and breakfast bar.  A bright, cheerful material palette takes advantage of the south facing exposure to really make this the warm heart of the home.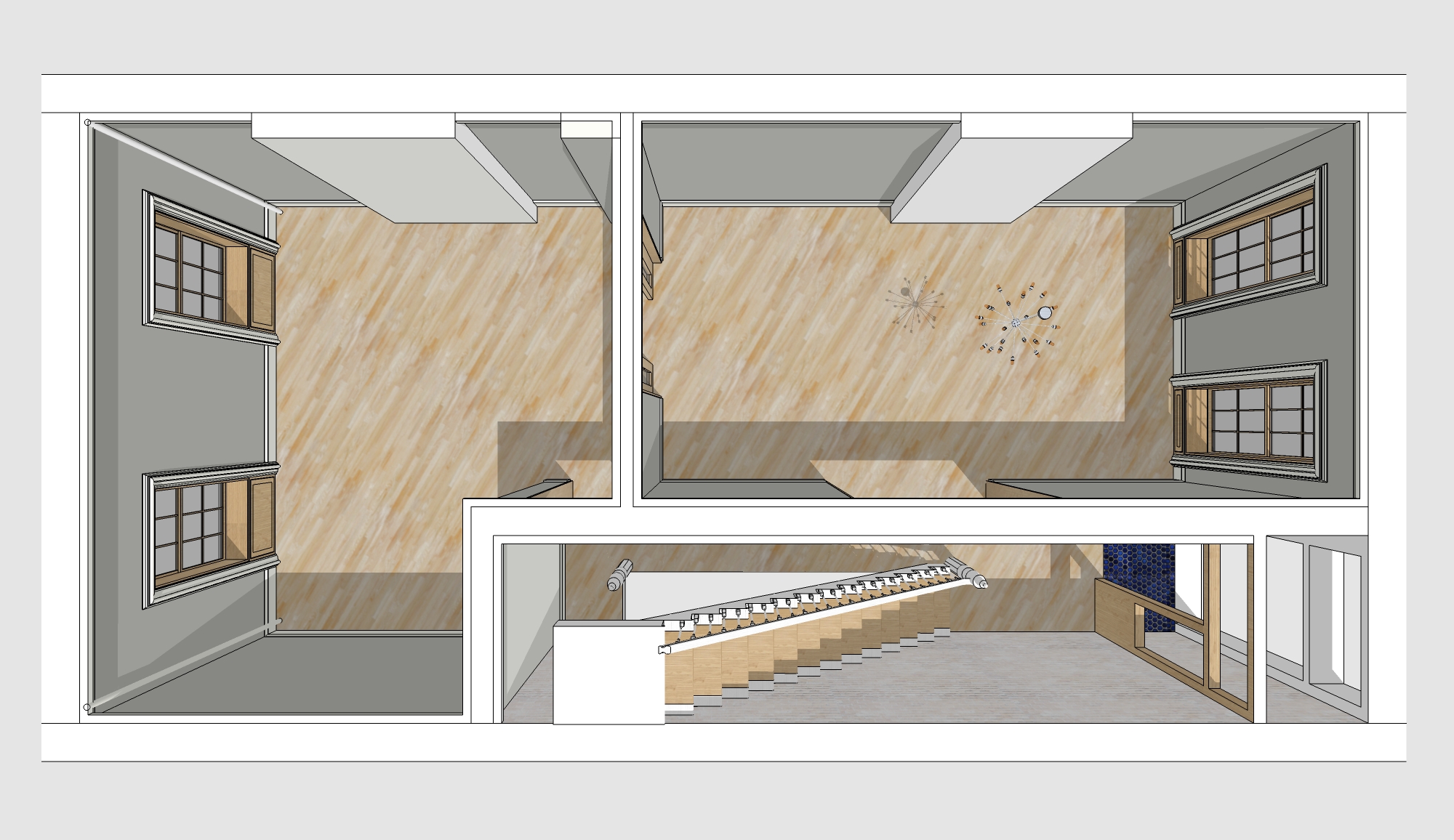 Up one level on the Parlor floor, where the historic details are still intact,  we've tried to retain the existing architecture as much as possible.  This meant simply refinishing the floor and stairs, giving the walls and trim a new coat of paint and new lighting fixtures.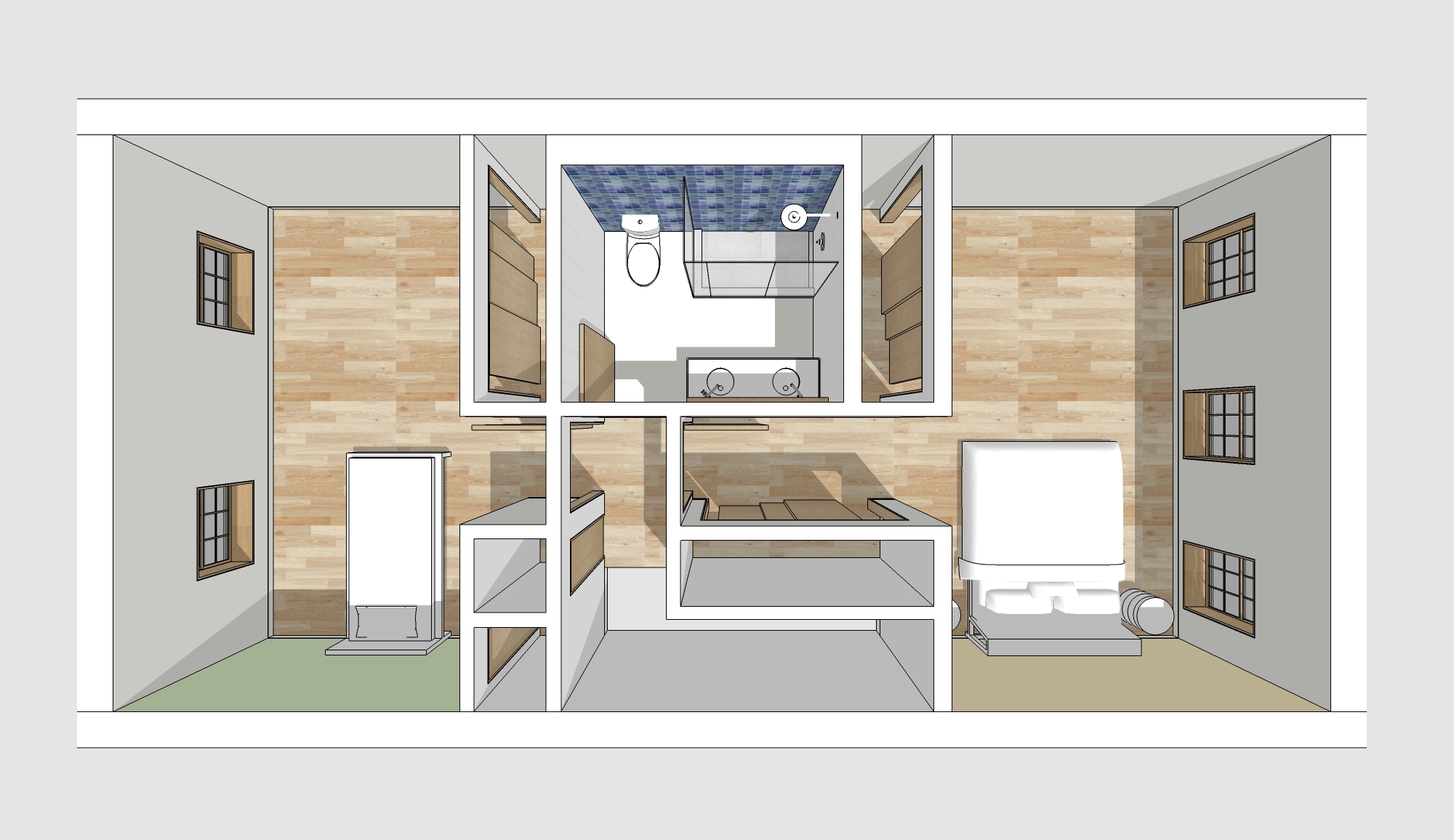 The Bedroom (top) floor has been separated into front and rear bedrooms by the bathroom.   We've also incorporated lots of storage by wrapping around the stair and bath volumes.  Details and material palettes are again crisp and minimal.   Reveals around inset casings around the doors and windows.  Subway tiled bathroom with one accent wall in heath ceramics.  An accent paint color in each bedroom as well.
We're excited to see the simple, elegant project get built out.  Stayed tuned in the coming weeks for more photos of the construction underway!