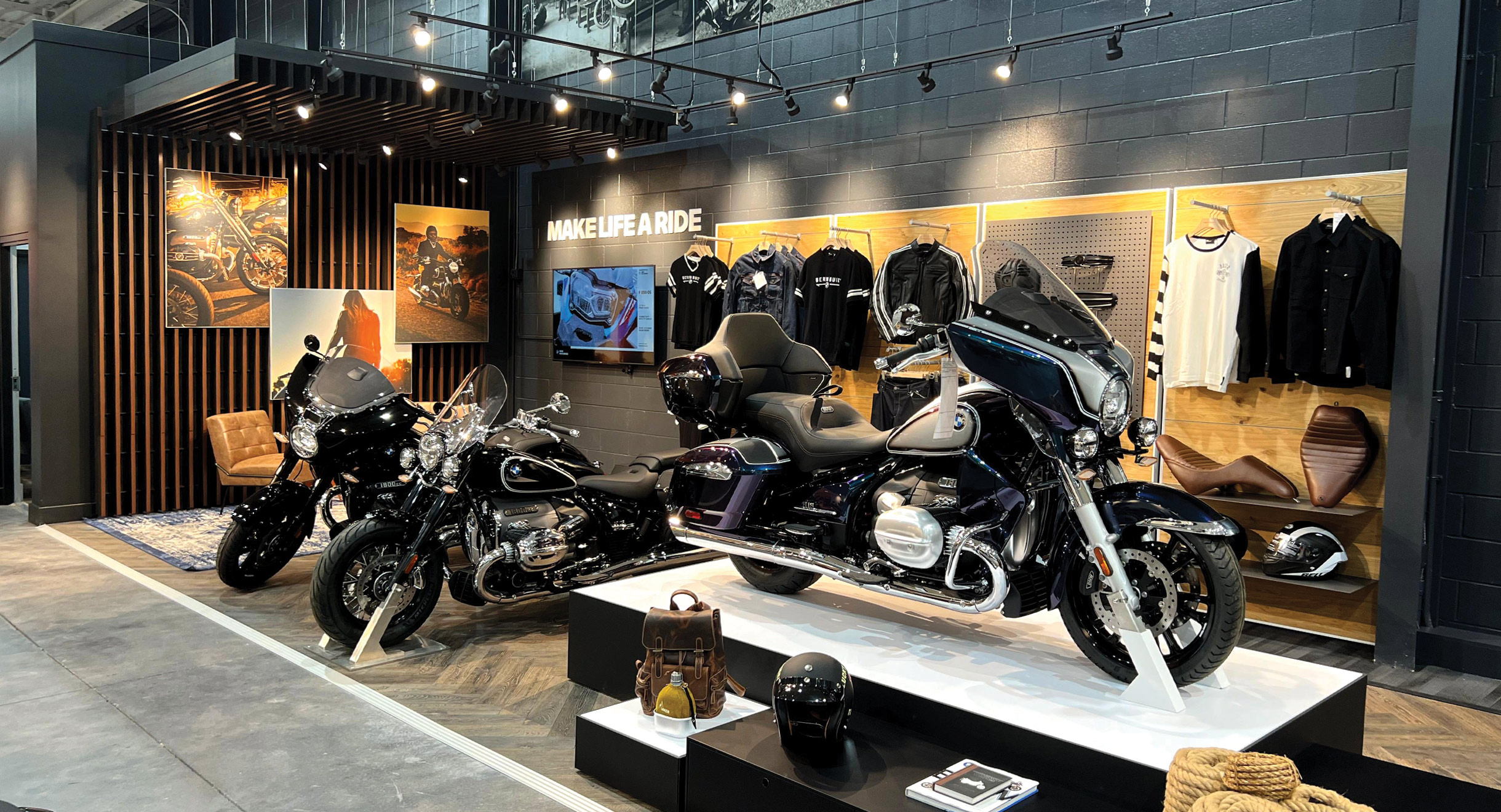 Automotive Retail Strategies for Today's Market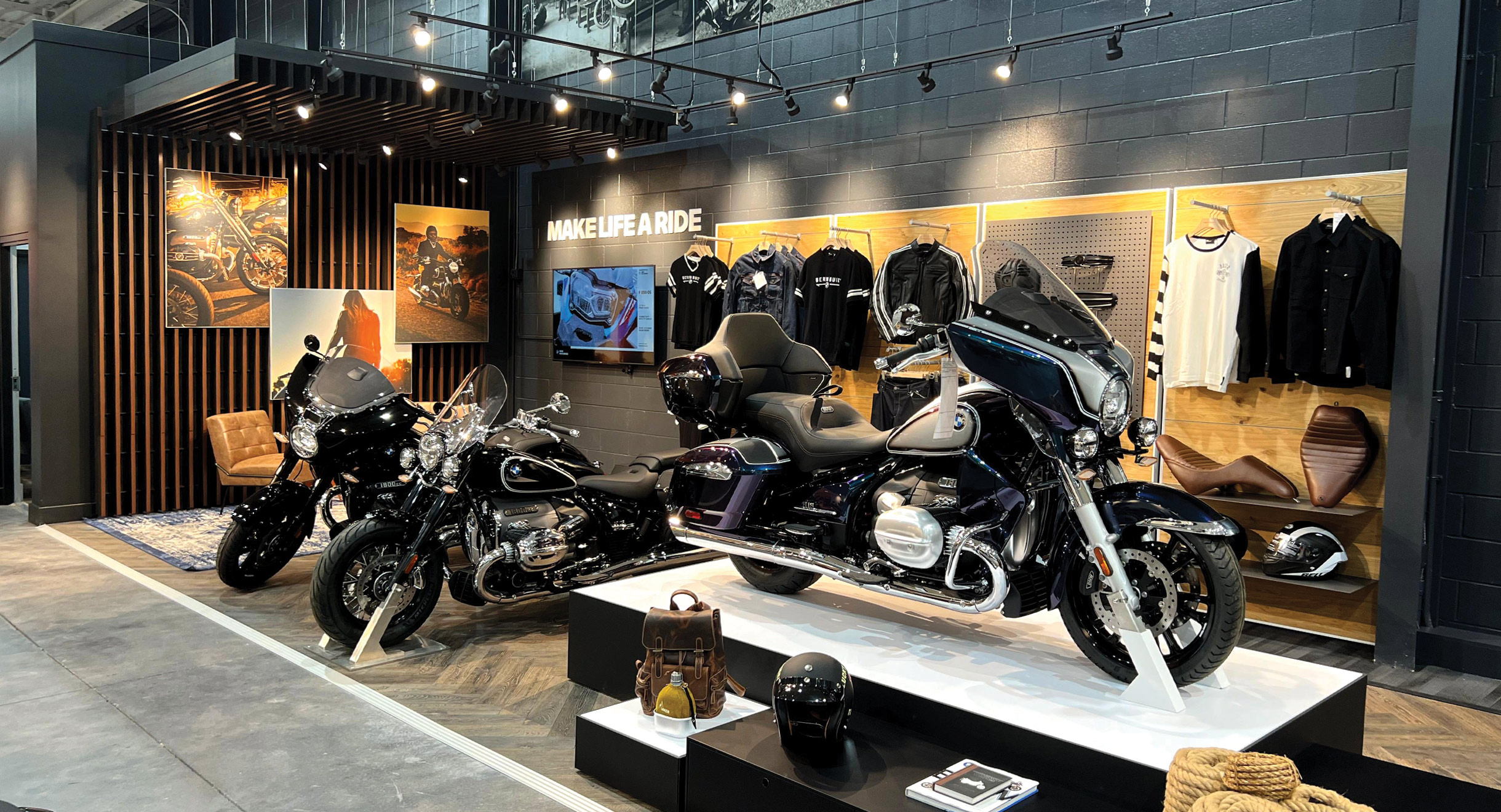 The automotive retail industry will face several emerging obstacles in the upcoming years, from changing consumer demands to growing competition. In order to succeed, retailers will need to prioritize customer experience and embrace innovation in their facilities. The following tactics can aid them in surmounting the most significant challenges faced by the industry in decades.
Brand Storytelling
Emotional connection is crucial for customers, particularly in the automotive industry where consumers are literally putting their lives in manufacturers' hands. To build trust, brands must invest in storytelling, leveraging authenticity and transparency to communicate their identity and history. 
The Motorrad Heritage area of Long Beach BMW Motorcycles is an example of successful brand storytelling. Circular's design concept showcases BMW Motorrad's history through materials and graphics and creates a compelling presentation of BMW's premium engineering and style.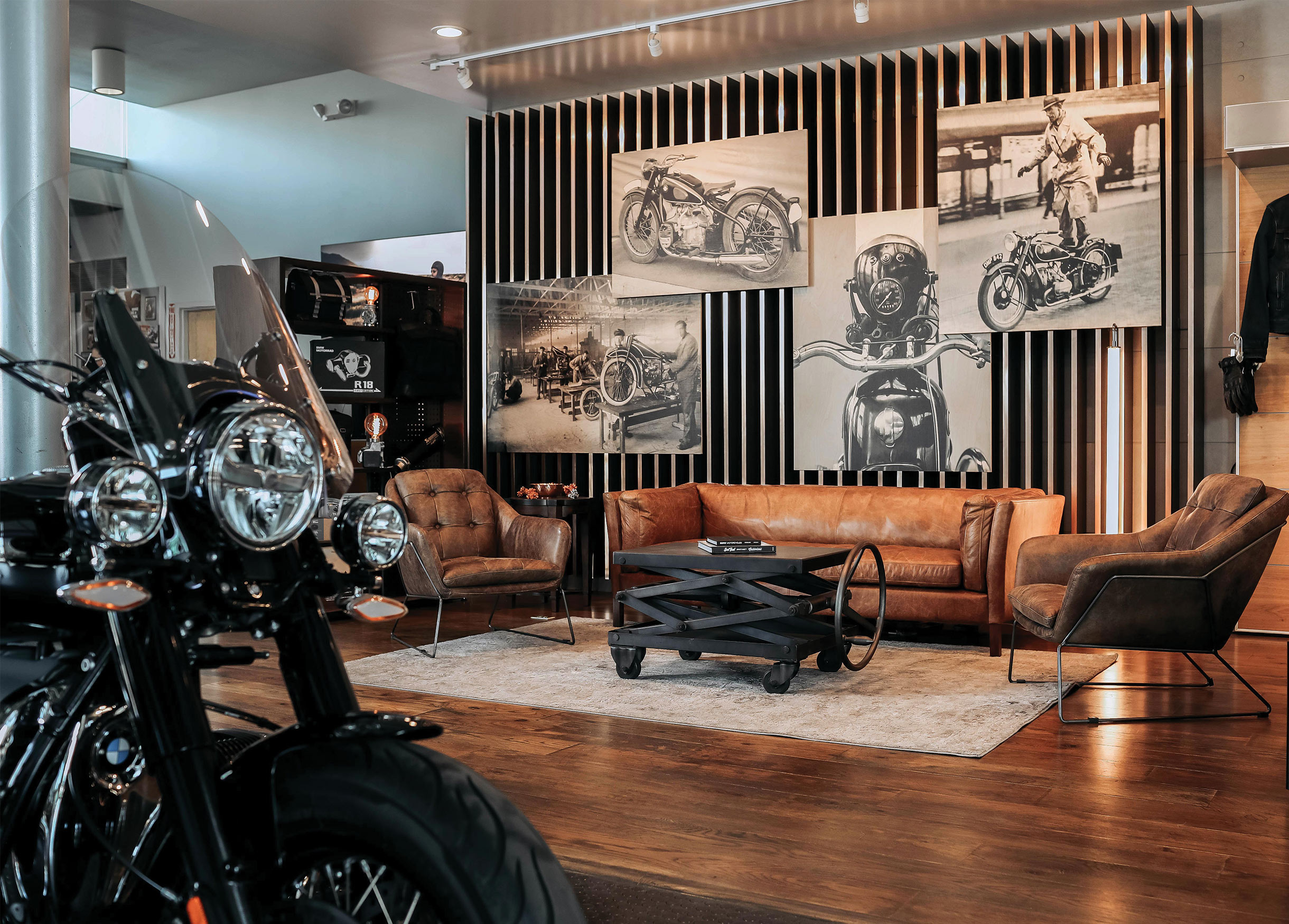 To build trust, brands should invest in storytelling.
Interactive Shopping
The conventional automotive buying process has become a source of dissatisfaction for most consumers. The outdated dealership model falls short of the convenient and transparent shopping experiences that consumers have come to expect from online retail. Despite that, shoppers still seek personal guidance and prefer in-person evaluation when making a significant purchase. 
Using VR and interactive displays in showrooms helps to bridge the gap between the online and in-person experience and improves the buying process. Customers can easily access vehicle info, compare models, and check customization options in a user-friendly setting. BMW's MotoTV Media Player is a prime example of this type of display, allowing interactive bike building and customization.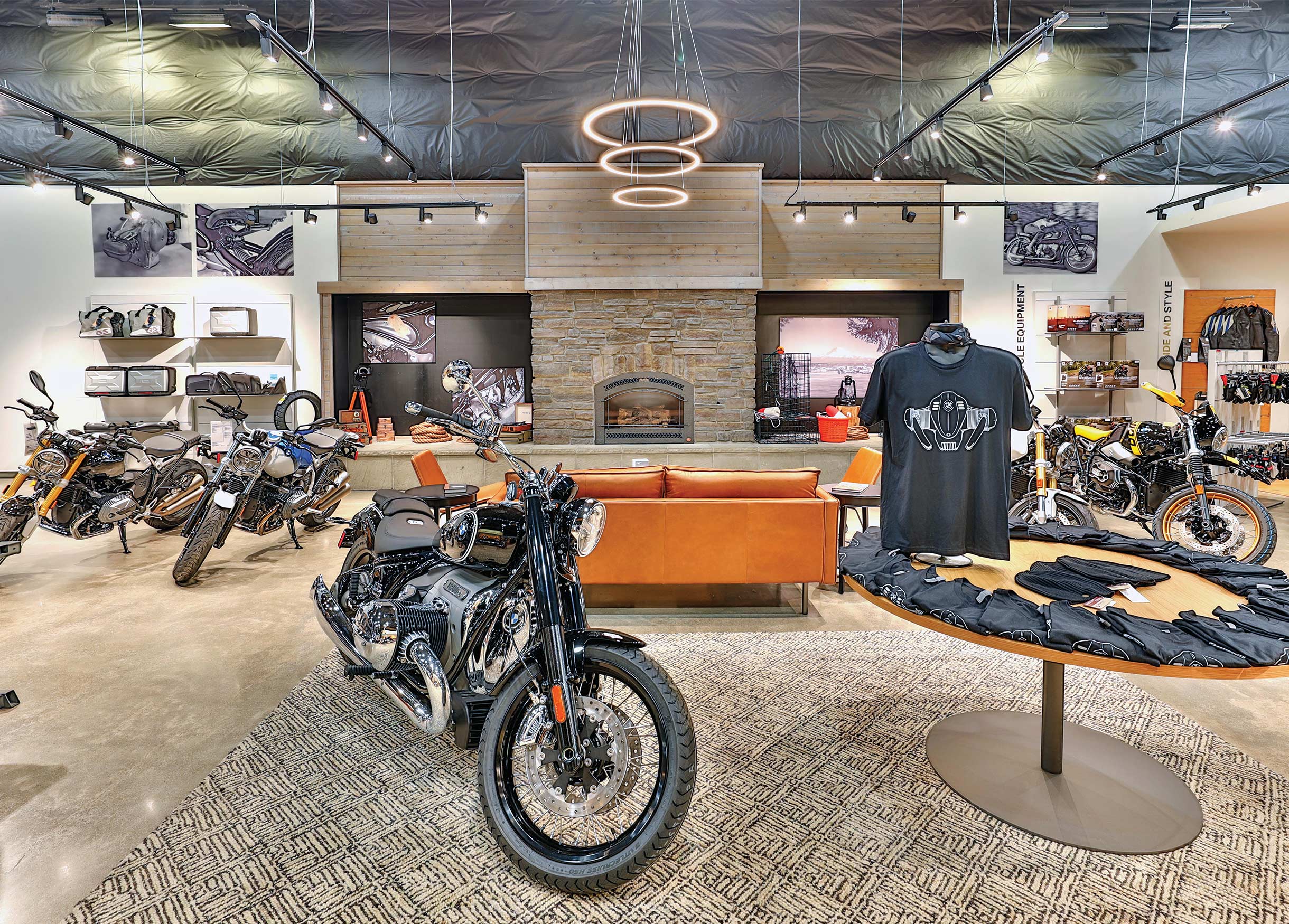 Sustainable Design
The automotive industry has long been the poster child for unsustainable practices. Old production methods consume a lot of energy, chemicals, and labor, leading to a huge carbon footprint. However, the industry is now shifting towards sustainability, with zero-emissions vehicles and carbon-neutral production, due to the increasing demand for sustainable practices throughout the business, including at points of sale. 
Dealerships are increasingly adopting sustainable practices, like using eco-friendly building materials, low-wattage LED lighting, and heat pump HVAC systems. A design based on Passive House principles can further boost all these benefits. High-performance windows, insulation, and airtightness measures can improve thermal comfort, reduce energy consumption and cut operational costs.
Dealerships are increasingly adopting sustainable practices, like using eco-friendly building materials, efficient lighting, and HVAC systems.
Immersive Environments 
The pandemic and the growth of online shopping have pushed the automotive retail industry to adapt to evolving buyer needs and expectations. The automotive industry must further adapt by creating experience centers featuring sensory stimulation, engaging interactive product displays, and meticulous attention to design detail. 
A prime example of this transformation is the Harley-Davidson of NYC flagship store, which leverages the neighborhood's manufacturing history and introduces high-tech dynamism via themed customer lounges and a material palette of concrete, wood, leather, neon, and steel to evoke a multisensory experience of craftsmanship, authenticity, and luxury.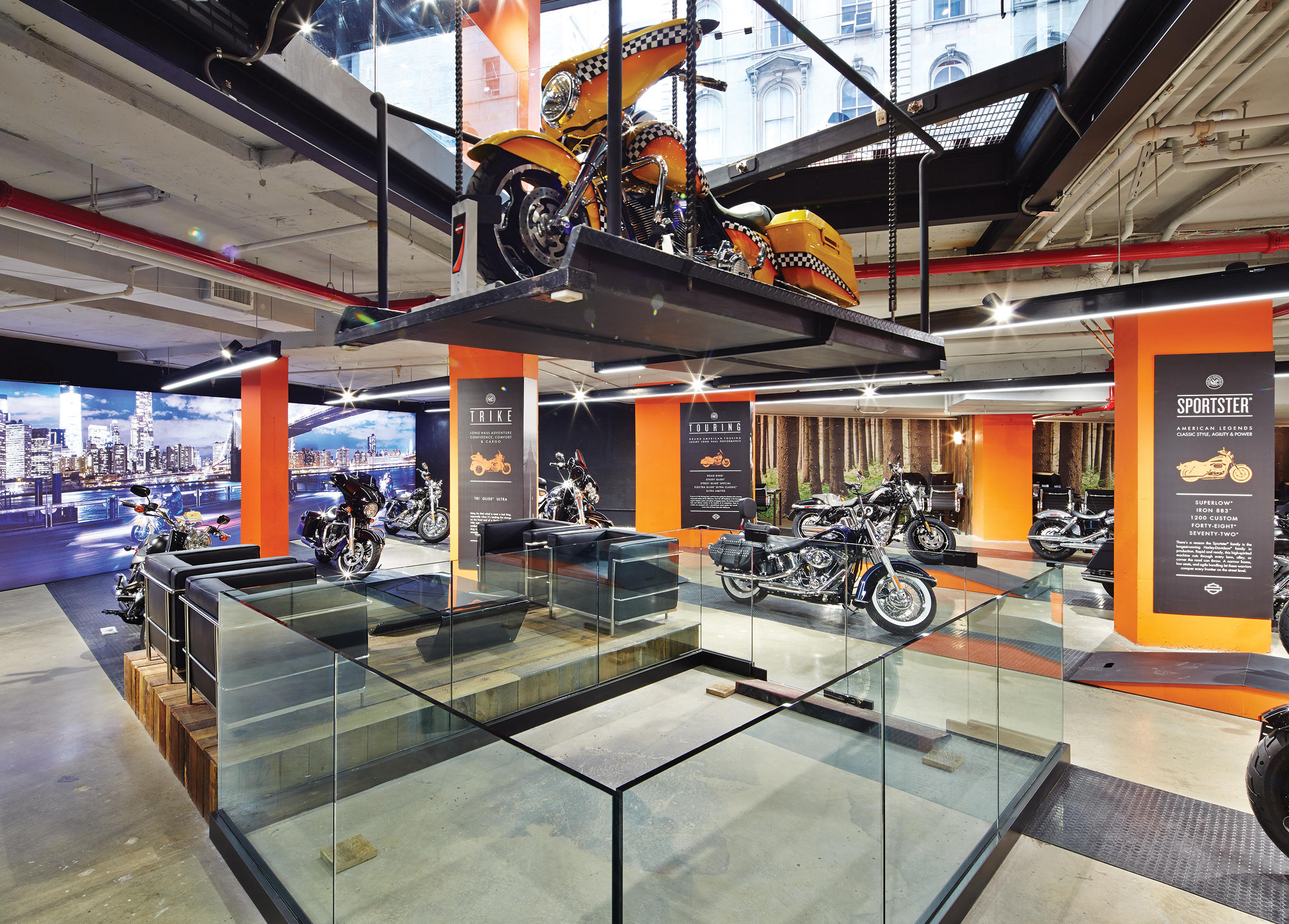 Retail Transformation
Motorcycle showrooms are undergoing a transformation, adopting innovative design trends to create an immersive and interactive customer experience. From virtual and augmented reality technology to minimalist and sustainable design elements, and interactive displays, showrooms are becoming high-tech environments that allow customers to connect, explore, test drive, and customize vehicles in a comfortable and engaging setting.