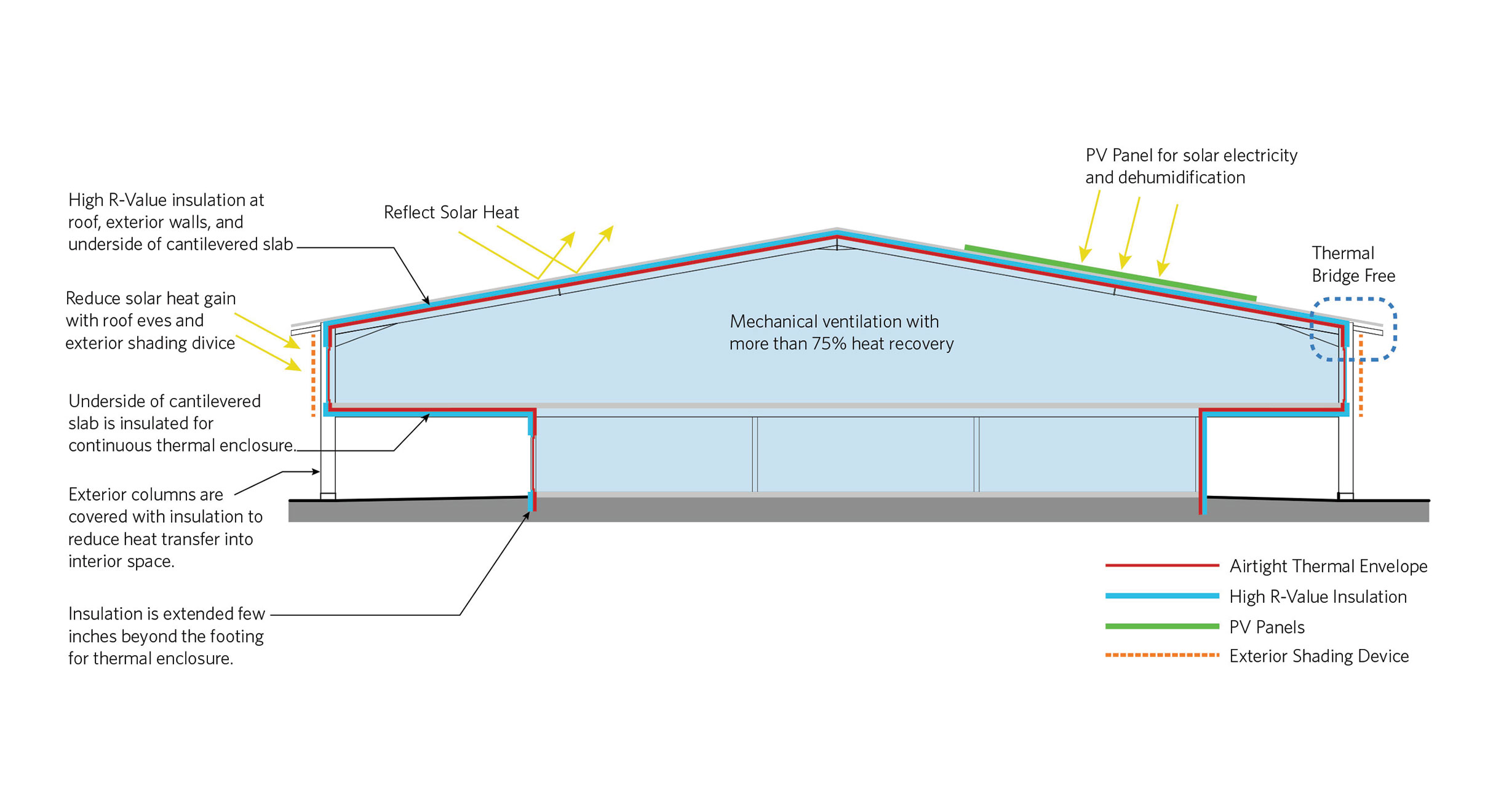 Part 3

How we did it: Star Garments Innovation Center - A Holistic Design Approach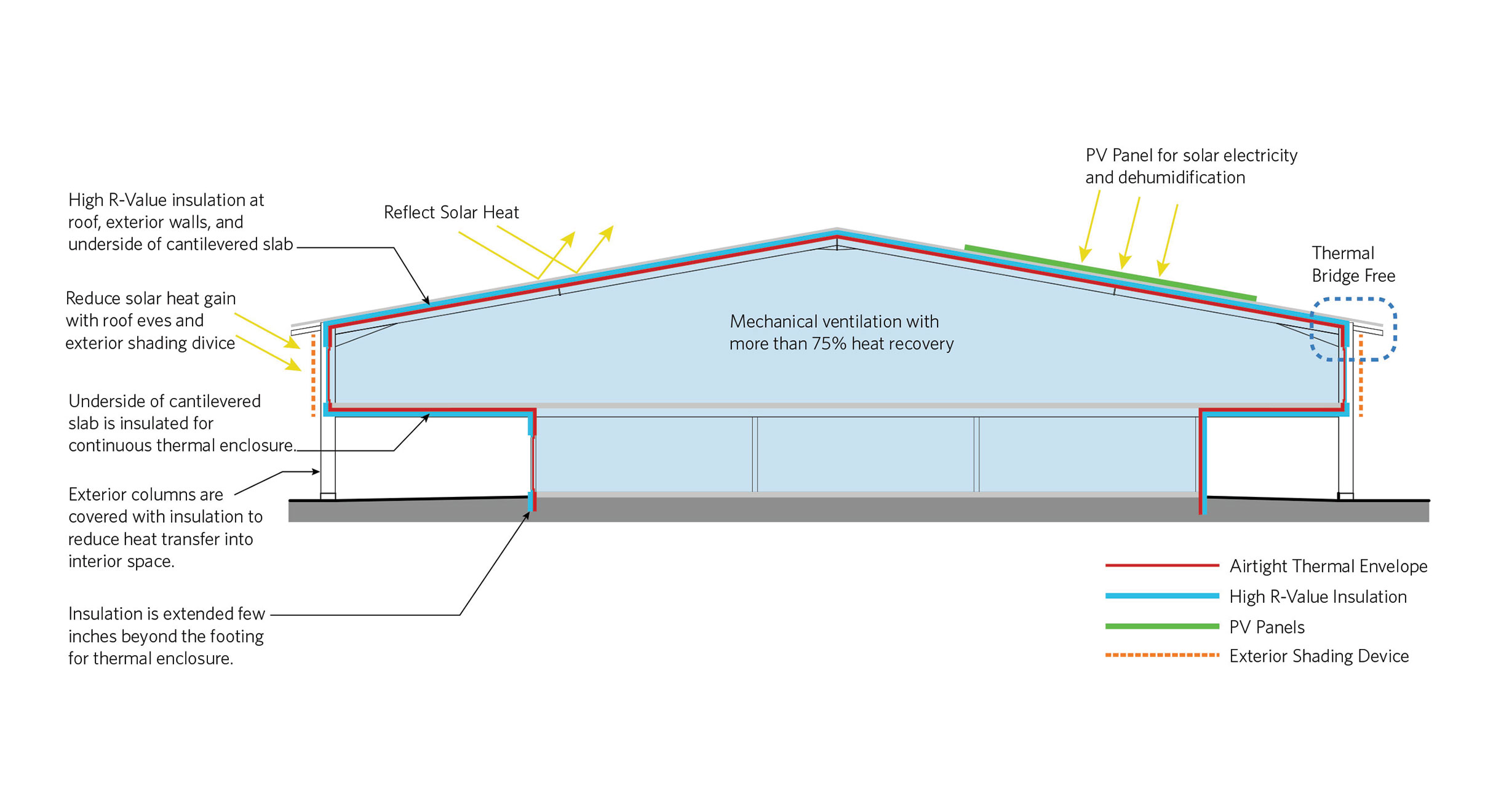 Pre-Design Research
Establishing the historic primary energy use as separate from industrial process loads was a critical task given that the data could be sourced only from utility bills. A comprehensive analysis of all energy use was carried out to establish a baseline for cost and performance. 
Another design challenge for the team was to model the complex occupancy and usage patterns with the demanding programmatic needs of a combined office, showroom and factory use that operated multiple shifts per day.
The Design Approach
Conceptually, the architectural design aimed at maintaining the exposed steel structure, keeping the aesthetics clean and simple. A mix of "treated" (air conditioned) and "untreated" spaces were provided in both the interior and exterior areas to respond to cultural preferences for temperature.
One of the foremost strategies was to reduce solar heat gain in the building. The use of exterior shading devices and a cantilevered upper floor with insulated roof overhangs ensured lower temperature in the interior spaces. The use of reflective roof paint further reduced external heat gain.
High R-value insulation and resilient air sealing tapes at the roof and walls were used to keep air-conditioned interior spaces at a constant comfortable temperature and prevent leaks at windows and doors. Thermal bridge-free design to further keep the heat out was achieved using a combination of low-tech detailing and specialized spray and structural polyurethane blocks at the existing structural frame.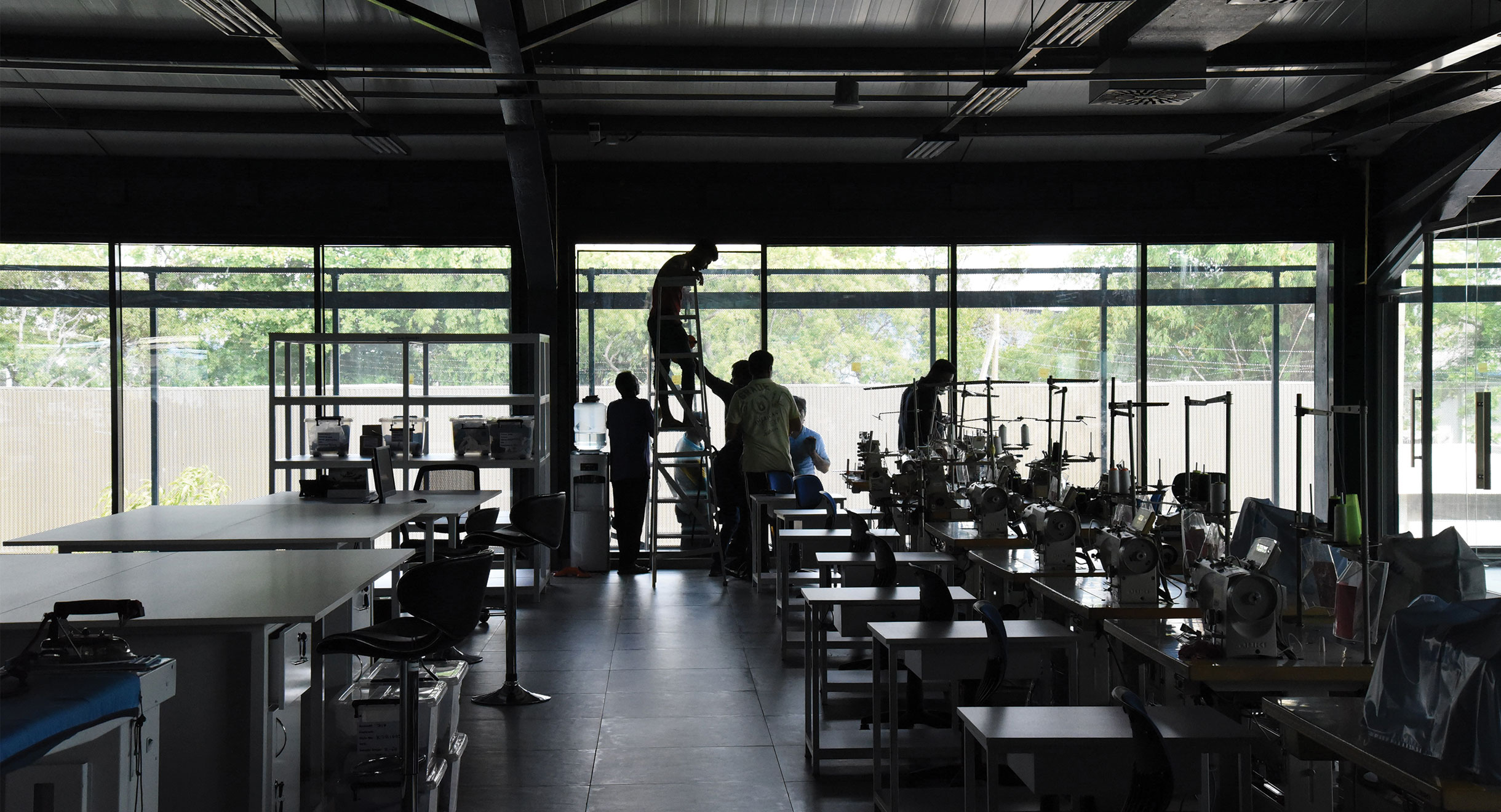 Construction Planning
The lack of regional distributors for typical Passive house building components like technical tapes, air barrier materials, and specialized mechanical equipment was a logistical issue that needed to be solved. 
The Circular team prepared a thorough quantity surveyor estimate of the amount and types of materials required. This was then used to source the materials directly from manufacturers based in Europe and India. Creating a precise estimate was critical as the materials could be ordered only once in order to comply with strict import regulations. 
The ease of installation of these elements was taken into account at each phase. Keeping the materials and detailing simple helped to ensure successful execution by workers on site.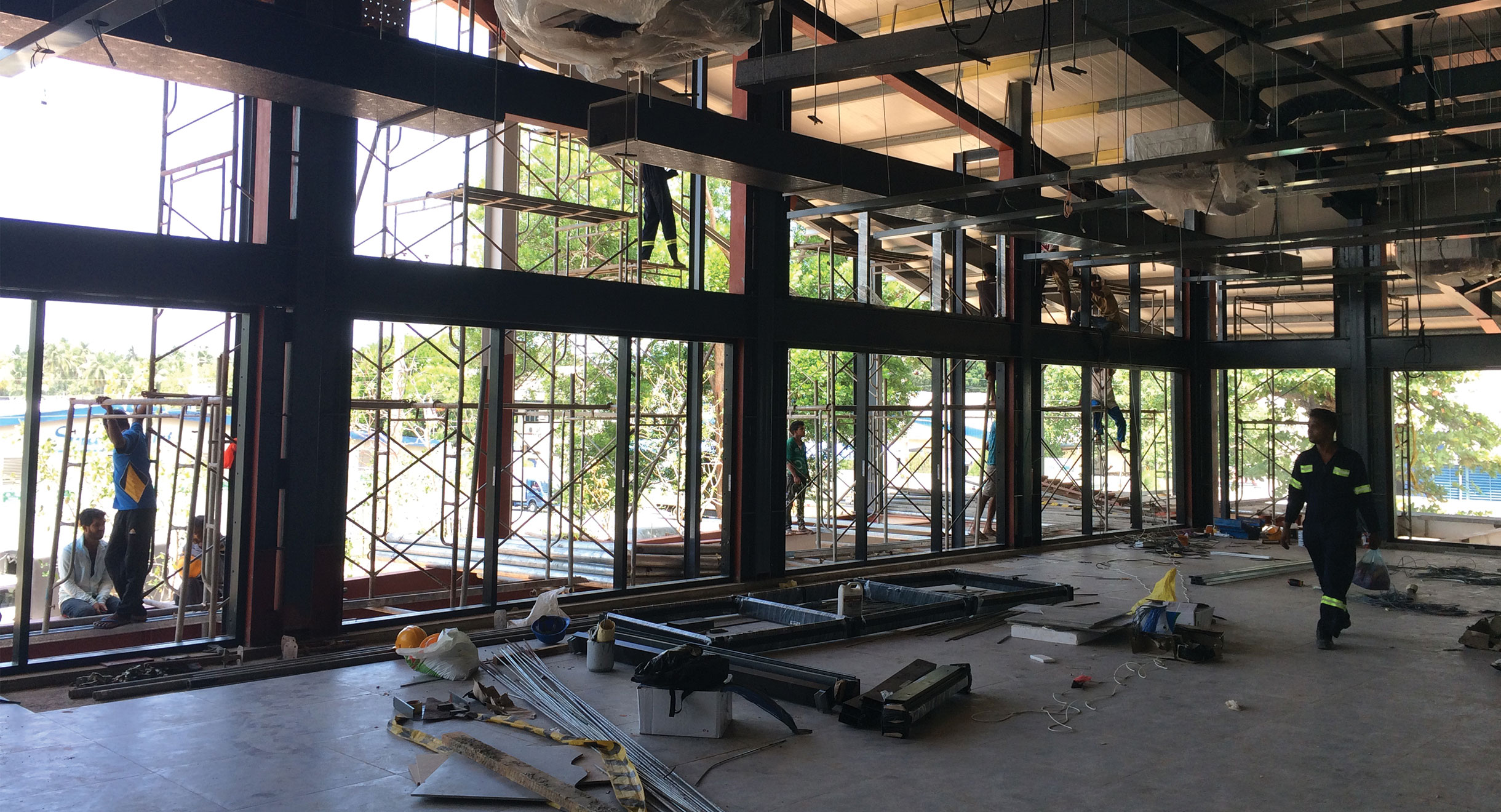 A Holistic Process
Resolving issues like a lack of local tradespeople with high performance building construction experience, the difficulties in sourcing suppliers for materials, and modeling the complex energy use of an industrial building served as opportunities to develop a set of procedures and solutions to holistically address complex needs and requirements for these kinds of projects.  This process paved a path to creating a repeatable model for passive house design for large-scale facilities in tropical regions.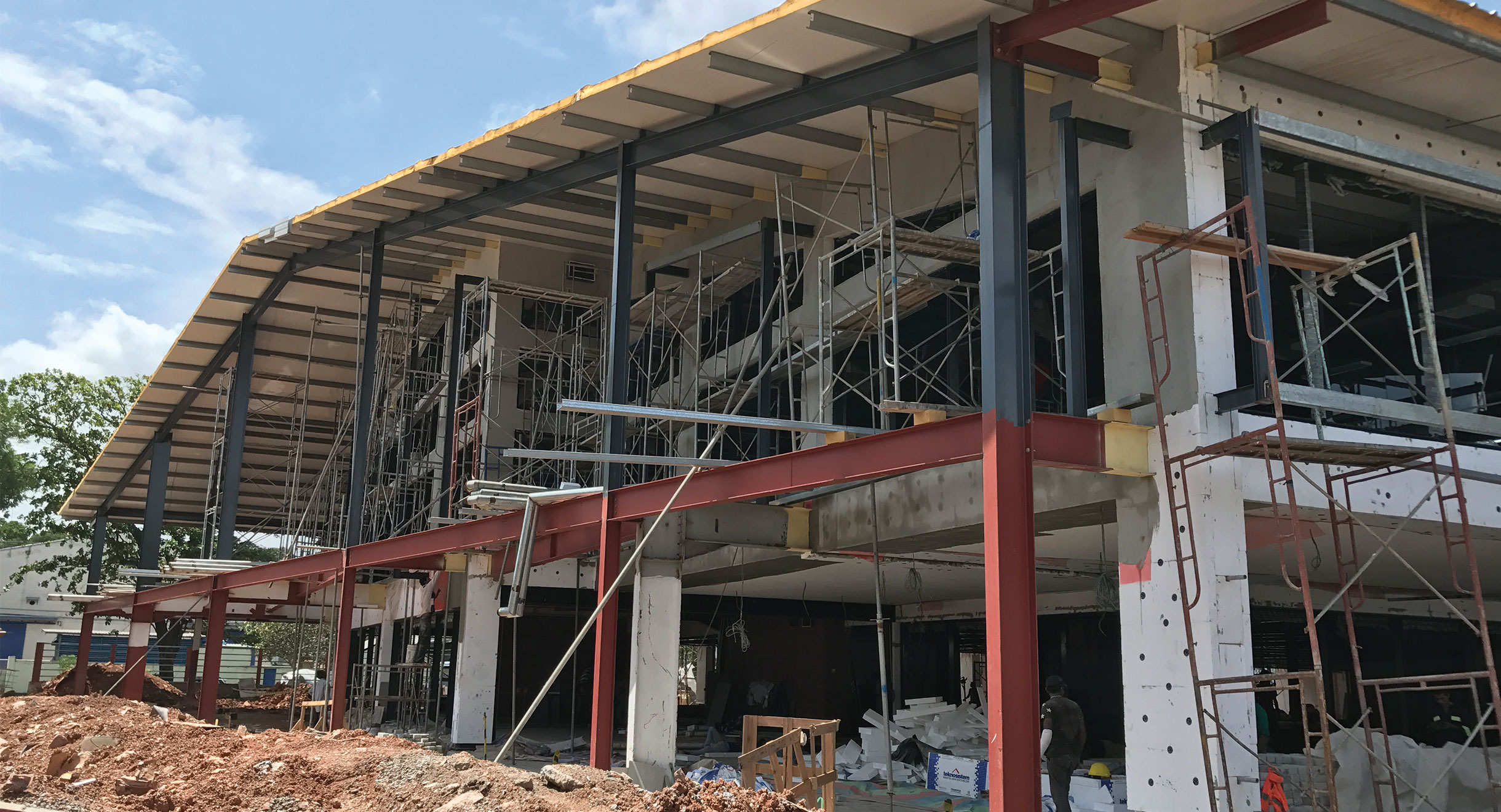 Up next: We will take a closer look at the construction phase of the project and how the process was optimized to keep the energy and cost expenditure to a minimum.