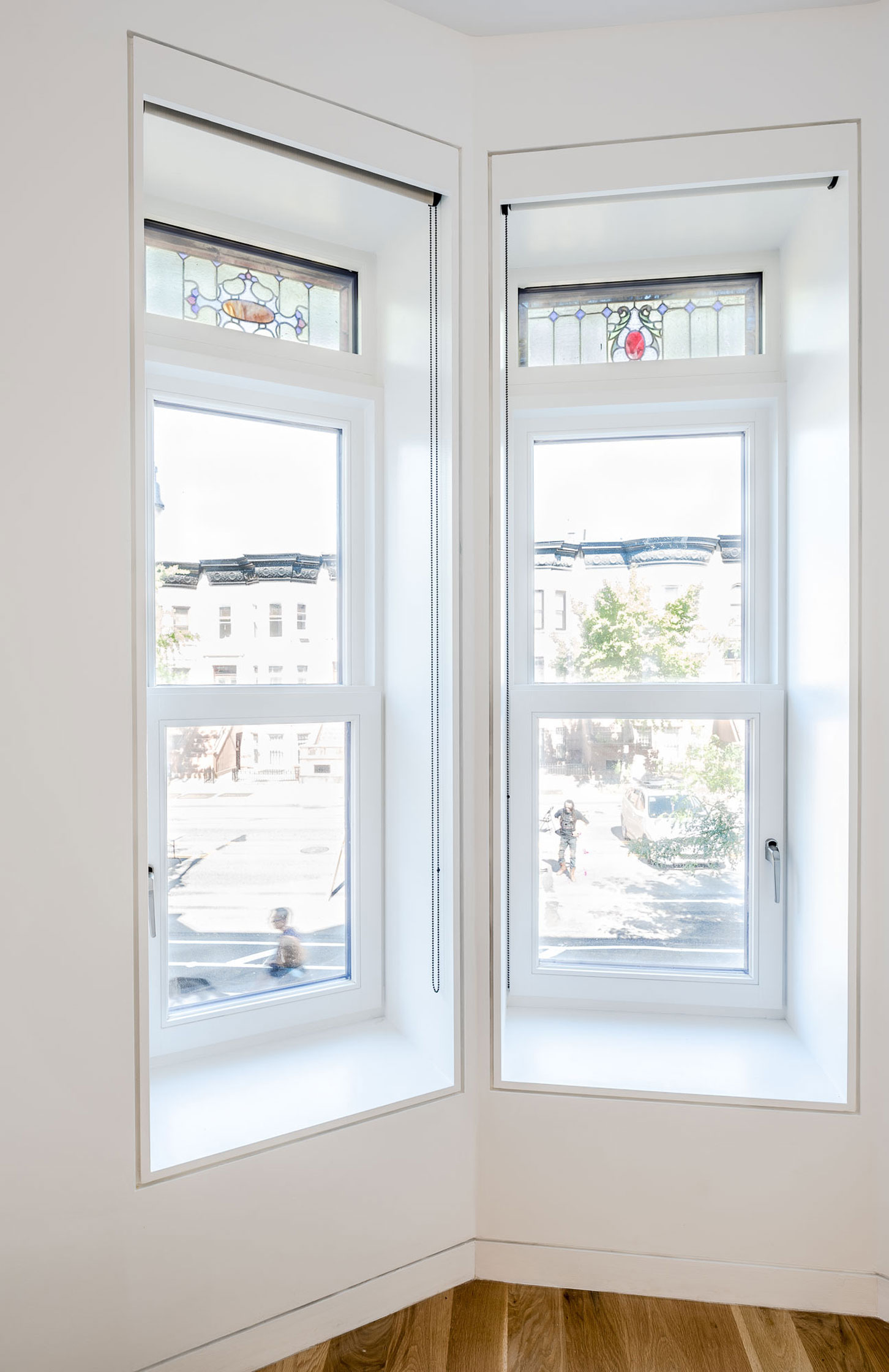 Part 3

How We Did It: Park Slope Passive House Series - Passive House Design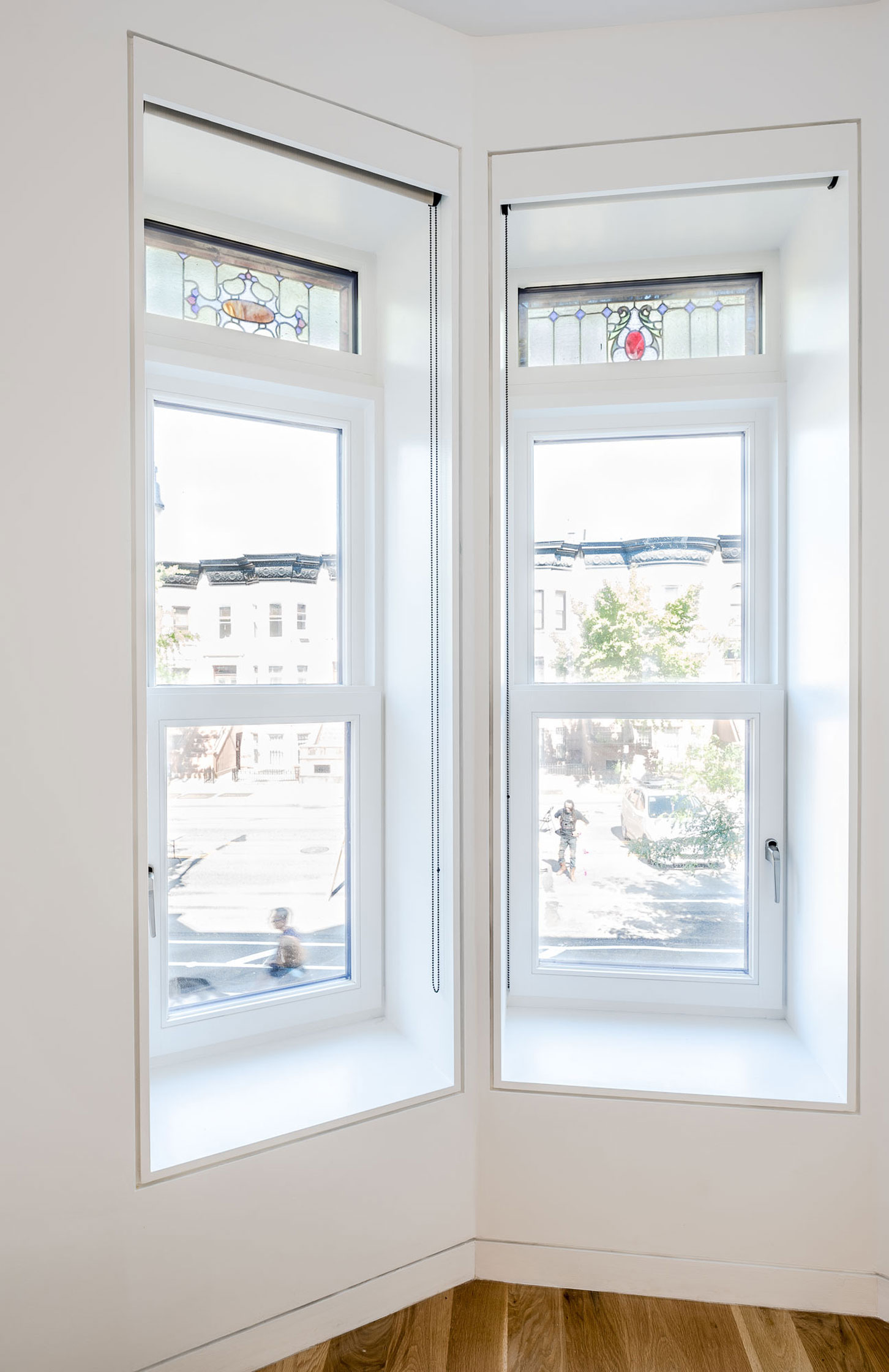 Our last post explored the larger transformations of this building, including unit and layout conversions that gave our client an open duplex in addition to a rental flat. We'll now take a look at how Passive House works in an historic building.
Passive House Principles
The core principles of the Passive House standard are rather simple: insulation, airtightness, prevention of thermal bridges and energy recovery ventilation.
Along with a thick and continuous thermal insulation layer to keep temperatures comfortable, airtightness prevents infiltration of outside air as well as the loss of conditioned air. The building envelope needs to pass progress and final blower door tests, which confirms the airtightness of the exterior walls.
During design, it is also critical to identify and remove any "thermal bridge" conditions, which are moments where building materials act as channels for transmitting outdoor cold (or heat) to the indoor spaces.
We look closely at all construction details, material specifications, and weather-proofing details, including everything from well insulated high-performance windows to the execution of corners, connections, and penetrations.
Finally, all the fresh air that is drawn into the building is filtered and passed through an energy recovery ventilation system that retains up to 90% of the heat (or cooling) that would normally be lost through exhaust. 
So how does this work in an existing building, especially when it's Landmarked?
Historic buildings are structures that have stood the test of time, and often come with unique architectural features on their facades that need to be preserved. Landmarked districts strictly limit the types of visible changes that can be made to their buildings, including existing stone and masonry, the size and types of windows and even the paint colors of the doors and frames.
The least disruptive way to upgrade an old building is typically to reclad the exterior to achieve Passive House performance, but this is definitely not possible for a landmarked row house.
The solution for this project is to maintain the existing facade, and then work from the outside in - adding new insulation and air barriers behind the brick and stone so they are invisible from the street.
High-performance replacement windows and doors are designed to mimic the look of the original components, while delivering vastly improved efficiency.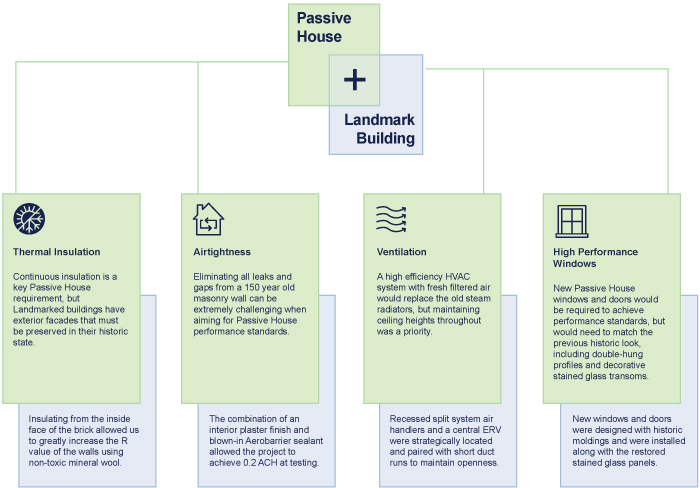 Previously:  We took a closer look into the architectural design and layout changes, leading to converting the building from a three-family to two-family townhouse and bringing with it increased openness and light.
Up Next: We will examine the demolition phase and new structural work, a precursor to getting this building airtight and ready for Passive House standards.